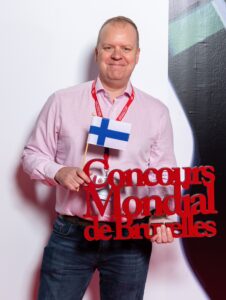 Vuonna 2011 perustetun Copatinton tavoitteena on tuottaa mukavia viinielämyksiä sekä edistää viinikulttuurin kehittymistä Suomessa. Blogin kirjoitusten ja viiniarvioiden lisäksi juttujani voi lukea Viinilehdestä sekä Viinilehden Bouquet Clubin julkaisuista. Järjestän myös tilauksesta viinitastingeja ja koulutuksia.
Olen suorittanut Wine and Spirit Education Trustin (WSET) Diploma level 4 tutkinnon 2018 ja aloitin opiskelut Master of Wine-koulutusohjelmassa 2019. Lisäksi kansainvälistä kokemusta on kertynyt mm. saksalaisen laatuviinien tuottajajärjestön VDP:n Ambassador-koulutusohjelmasta (2016) sekä viinituomarina toimimisesta Mundus Vini- ja Concours Mondial de Bruxelles-viinikilpailuissa. Vuosien varrelle on mahtunut monenlaisia viinielämyksiä viinitiloilla, alan tapahtumissa, koulutuksissa sekä ennen kaikkea mielenkiintoisten viinien parissa.
Viiniterveisin
Teemu Rinta-Mänty
DipWSET | MW stage 2 Student | VDP.Ambassador
Copatinto
e-mail:  teemu(at)copatinto.com
facebook:  www.facebook.com/Copatinto
Instagram: @copatinto
Copatinto was founded in 2011 by Teemu Rinta-Mänty aiming to provide nice and relaxed wine experiences and promote the development of wine culture in Finland. In addition to my blog posts and wine reviews on this site I also write articles for Finnish wine magazine Viinilehti and their Viinilehti Bouquet Club. I also organize wine tastings, wine trainings and wine education for winelovers as well as professionals.
I completed my Wine and Spirit Education Trustin (WSET) Diploma level 4 in 2018 and started my Master of Wine studies in 2019, being currently on stage 2. I have been on the first VDP:n Ambassador program in 2016 and judging wines in Mundus Vini and Concours Mondial de Bruxelles wine competitions.
Teemu Rinta-Mänty
DipWSET | MW stage 2 Student | VDP.Ambassador
Copatinto
e-mail:  teemu(at)copatinto.com
facebook:  www.facebook.com/Copatinto
Instagram: @copatinto